Who We Are
With almost 50 years experience we have earned a reputation built on performance and pride ourselves on being one of New Zealand's most preferred steel fabricators. At D&H Steel, we like to take control of a project as early as possible, identify problem areas, propose solutions and drive the project through to successful completion.
Our Story
D&H Steel Construction has built up a reputation of reliability and performance since starting back in 1972. We have been behind many of the largest structural steel projects across Auckland, including Westfield Shopping Malls, Auckland Airport, Lion Brewery at Ormiston Road, the 26-storey Deloittes Tower at 80 Queen Street, and the Viaduct Event Centre. Other projects outside of Auckland include the 33 Lichfield Street Parking Building, Tauranga Cargo Sheds, University of Canterbury Regional Science and Innovation Centre, and the replacement Kopu River Bridge.
The leaders at D&H Steel are highly experienced building contractors with strong engineering backgrounds and are sympathetic to the demands and accountability in steel construction. We draw on a management capability, extensive technical expertise and wealth of project experience to provide proactive and resourceful input to produce the right structural solutions without comprising quality and performance expectations.  The strength of the company is based on the expertise and experience of people attracted to the company,  many with more than 20 years of loyal service.
For almost 50 years D&H Steel has been a leader of innovation in the steel industry, from being an early adopter of welded beams, on the ground erection techniques and more latterly driving the fabrication quality management systems. We were the first company to receive AS/NZS3834 accreditation and Steel Fabrication Certification (SFC).
"We are a preferred steel fabricator to many contractors who actively seek us out to take care of the structural steel requirements on the most demanding of their projects." – Wayne Carson – General Manager.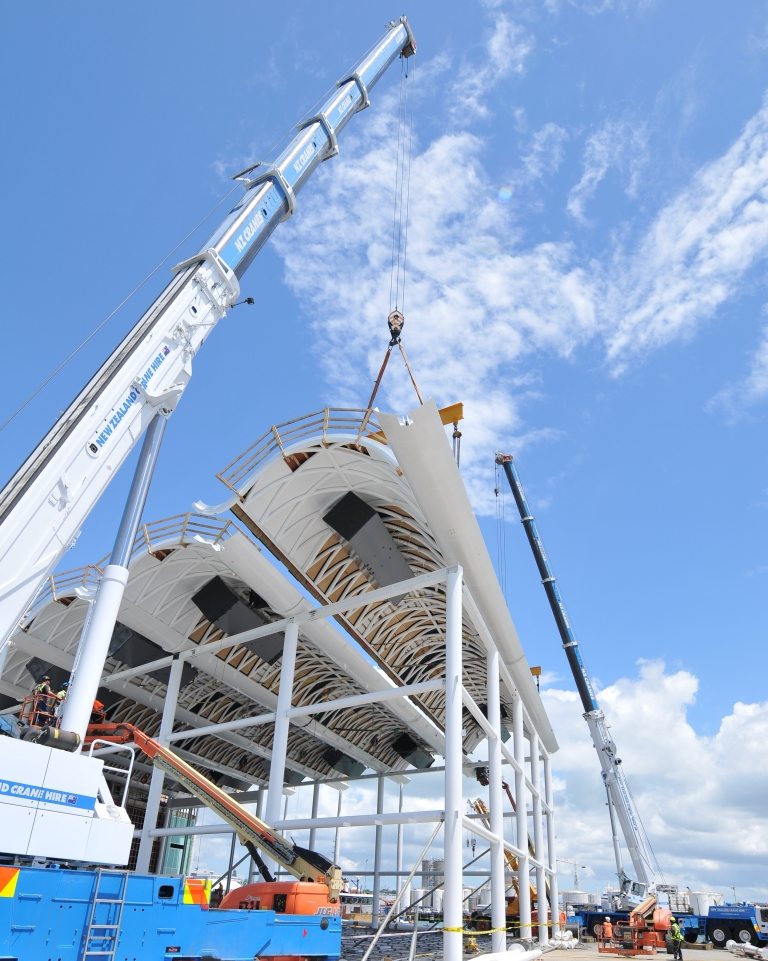 OUR HISTORY
"We have served the New Zealand construction industry for almost 50 years"
D&H Steel Construction began when Barry Dixon and Bob Haddon formed Dixon & Haddon Ltd in 1972 and the company rapidly grew to become one of the largest and most well known structural steel fabricators in the Auckland region. Dixon and Haddon provided structural steel for a wide variety of projects including high rise steel structures and major industrial plants such as the Glenbrook Steel Mill.
In the late 1980's Barry Dixon retired and Mike Sullivan, previously a site engineer with civil construction company Wilkins & Davies, bought into the business. In 2004, Bob Haddon retired and the company was renamed D&H Steel Construction Ltd to reflect its ability to do composite structural steel and concrete structures with associate company Clearwater Construction Ltd. In 2008 Wayne Carson was appointed General Manager after some initial involvement some 10 years previously and in 2014 Dean Pouwhare was appointed Operations Manager with overall responsibility for both the workshop and sites. In 2021 Wayne Carson became Managing Director and Richard Hine was appointed General Manager.
Over the past twenty years D&H Steel has grown to tackle larger and more complex projects. It has strengthened all of its operations equally, including the early adoption of CAD drafting and CNC production technology and developing well structured project management and production processes. Shop detailing and steel erection are closely coordinated with designers and constructors, with a 'can-do' attitude and the willingness to be flexible according to project requirements. The ultimate test is completing challenging projects on time despite 'time line' challenges and increases in complexity and scope. D&H Steel regularly achieves this while carrying on Bob Haddon's unqualified commitment to customer service.