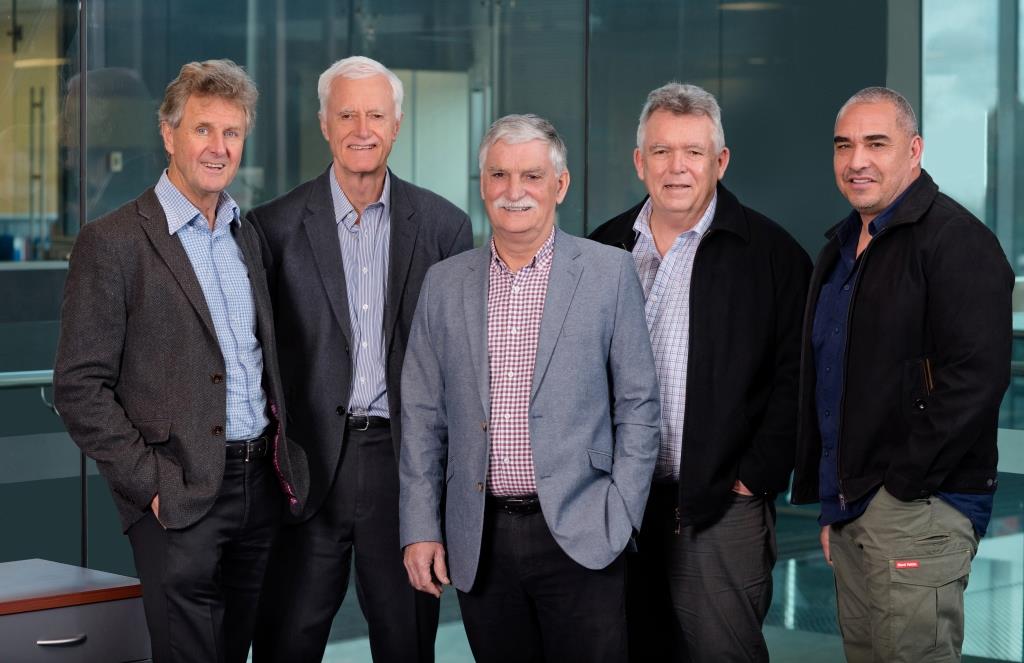 D&H Steel Construction is a privately owned company that strives for "best practice" in all areas of operation including governance. The Board of Directors provide oversight and guidance to steer the business towards its objectives and ensuring the day to day management is consistently aligned with the overall vision.
(L-R)  Mike Sullivan – Managing Director.
Stephen Reindler –Non Executive Director and Board Chairman. Stephen has a mechanical engineering background and lead engineering, environmental and occupational health and safety programmes in some of New Zealand's largest companies. He has wide experience in the management and governance of businesses in the supply chain, steel and construction industry.
Rowan Chapman – Non Executive Director. Rowan is a senior Chartered Accountant with extensive commercial experience in private and public companies, trusts and partnerships and commercial dispute resolution
Wayne Carson – General Manager
Dean Pouwhare – Operations Manager
"We have served the New Zealand construction industry for almost 50 years"
D&H Steel Construction began when Barry Dixon and Bob Haddon formed Dixon & Haddon Ltd in 1972 and the company rapidly grew to become one of the largest and most well known structural steel fabricators in the Auckland region. Dixon and Haddon provided structural steel for a wide variety of projects including high rise steel structures and major industrial plants such as the Glenbrook Steel Mill.
In the late 1980's Barry Dixon retired and Mike Sullivan, previously a site engineer with civil construction company Wilkins & Davies, bought into the business. In 2004, Bob Haddon retired and the company was renamed D&H Steel Construction Ltd to reflect its ability to do composite structural steel and concrete structures with associate company Clearwater Construction Ltd. In 2008 Wayne Carson was appointed General Manager after some initial involvement some 10 years previously and in 2014 Dean Pouwhare was appointed Operations Manager with overall responsibility for both the workshop and sites.
Over the past twenty years D&H Steel has grown to tackle larger and more complex projects. It has strengthened all of its operations equally, including the early adoption of CAD drafting and CNC production technology and developing well structured project management and production processes. Shop detailing and steel erection are closely coordinated with designers and constructors, with a 'can-do' attitude and the willingness to be flexible according to project requirements. The ultimate test is completing challenging projects on time despite 'time line' challenges and increases in complexity and scope. D&H Steel regularly achieves this while carrying on Bob Haddon's unqualified commitment to customer service.